Here are the steps to subscribe, unsubscribe or check your subscription status in the Bowen EHS Member Center.
For a specific forum
Navigate to the forum you want to update.
Click on the Settings (gear) icon to the right of the forum title.
Choose one of the below:


If it says Subscribe to this forum you can click on the menu item to receive emails from the forum.
If it says Unsubscribe from this forum, you're already subscribed. Clicking on the menu item will stop the emails from coming to you.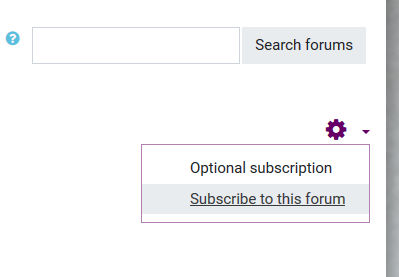 A visual of the Settings icon and menu
How to view all forum subscriptions in a course or membership
Click on the Client Dashboard button in the upper menu (looks like gears - see below).



Click on the Forums link under the Activities section.

This will show a list of all of the forums. You can toggle your subscriptions by clicking the Yes and No buttons under the Subscribed heading.