Only Windows and Mac machines can run downloaded recordings.
If you do not see Electa's globe-in-hand icon like below, some other app or program has been assigned to open the recordings. That, you already know, does not work. Please read on.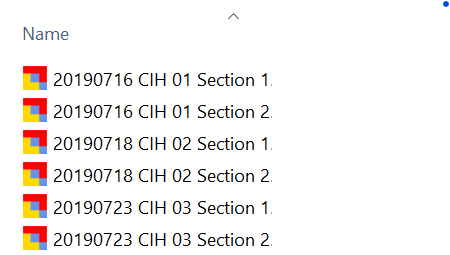 If you already see these icons, there is a different issue happening. Please
Contact Us
.
Fixing this on Windows machines
We need to tell your machine to use Electa instead. This should take less than 10 minutes.
The Automated Way
We created a simple application to correct the issues. Follow the steps below.
Download the application: electa-openfix (compressed)

If you can't, please download the batch version: electa-openfix.bat (compressed)

Open the compressed file. You will see a new window with the electa-openfix file inside.

If you can't find the file, please open your Downloads folder in your web browser.(the keyboard shortcut for that: Ctrl+J).

Double click the electa-openfix file to run it.
Give permission to run this application if you are asked. A window will pop up.
Close the window when the it states All done!
Go back to the downloaded recording and try it again.


If it does not open it with Electa, right click the file and choose Open with in the menu.
Look for and select Electa Live 8 Virtual Room app.
Check the  box next to Always use this app to open .el8 files.
Click/tap the OK button.
 The Manual Way
Open the folder that contains the recording files.
Right click on a recording to open the context menu.
Choose Open with... in the menu.
Check the Always use this [app,program] to open... (It depends on which version of Windows whether "app" or "program" is used.)
Expand the list of options by clicking More apps (Windows 10, 8, 8.1) or More programs (Windows 7).
Click on Electa Live 8 Virtual Room.
If Electa is in the list choose it and click the Okay button. It should open the recording in the file.Then you're done.
If it is not in the list, choose Look for another [app, program] on this PC at the bottom of the list. This should open file browsing window.

Look for a folder named Electa Live 8.0 and open it.


If you do not see it, navigate up one folder, open the Program Files (x86) folder, and look for it there.

Click on the eLectaLive8 program (you will see the Electa globe-in-hand icon next to it) and click the Open button. Electa should open at this point.
Once you have done this, you should be able to see the Electa icon (globe-in-hand ) next to the recording filenames just like the image at the top of this article.
Fixing this on Macs
Please Contact Us.