Older Courses - Electa
Testing and Troubleshooting the Virtual Classroom - Electa
This article is for issues with 
connecting
to the Virtual Classroom. If you are having audio issues, please visit the
Audio Issues article
.
Can't get the button like the one below to start the Virtual Classroom on your PC or Mac?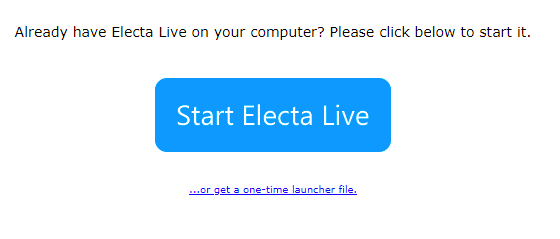 Click the one-time launcher file link below the button. It should look similar to the example above.
Open / run the file that is downloaded. This should start the Virtual Classroom. Occasionally it may update Electa on your device. If you don't have permission to install programs or apps on your device, you'll need to get your IT staff to do that for you.
Asked to run an elc8join file
 If your Windows or Mac machine is asking for you to find an app to run an elc8join file, your machine does not have Electa installed properly. Please follow the instructions in the previous section to install it.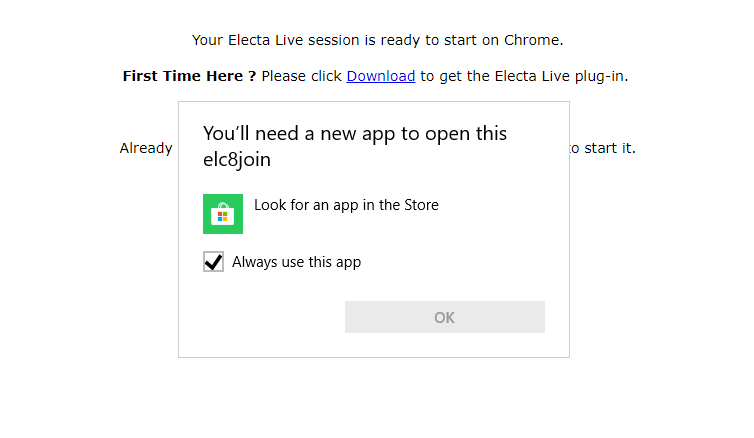 Other Troubleshooting
Below are some tests to help you or your IT people get the Virtual Classroom working.
If you aren't sure where to start, please Contact Us.
1. Verify Electa Connection or Issues
Use the button below to see if you get in. If you don't, record the errors or take a screenshot.
Verify that Electa is installed and your computer or device can communicate with the test classroom.
2. Check For Open Ports
Below are the results of testing to see if your device can properly communicate with the network ports that Electa's servers use.
What You Need
One green checkbox
Your computer/device time to be within one minute (1:00) of the ports' time in green.
If you don't have any green checkboxes, you probably have a proxy, firewall or internet security device between your device and the internet.
3. Firewalls
Firewalls and other internet security devices can make it difficult for Electa to communicate with your device.These devices can be set to block incoming and outgoing traffic. They can also be set to only allow certain connections from specific sites or servers.
Use the information in the following link to allow the correct ports and servers to be allowed to connect with your device.
4. Proxy Servers
These change the IP address between you and Electa.
How to configure Electa behind a proxy server
If you have a HTTP (no 'S') proxy server, Electa cannot communicate with it because there is no secure connection. SOCKS and SSL(HTTPS) proxy servers are supported.

 Still not resolved? Please Contact Us.