How do I take quizzes?
This also applies to entering your homework answers.
Navigate to the quiz or homework and click on it.
Click the Attempt quiz now button.
Enter your answer(s) for each question. (Example question below)


You can flag questions if you want to come back to them later (see the red flag above).

The question status ("Not yet answered" in the example above)is not changed until you click the Next button (next step).



Click the Finish attempt... button.
Review the Summary of attempt page. If you missed a question, you will see Not yet answered listed here. Use the Return to attempt to answer them.
When satisfied, click the Submit all and finish.
Review your attempt against the correct answers.
Solutions
For courses, the solutions will be provided for each homework, quiz or exam in a single PDF document and are also reviewed during class or in a recording.
For quizzes in the membership areas, each question has a separate solution document. We provide a direct link to the solution and the title of the question if you want to reference it. (The "View Solution" link is found in the light beige block as in the below example.)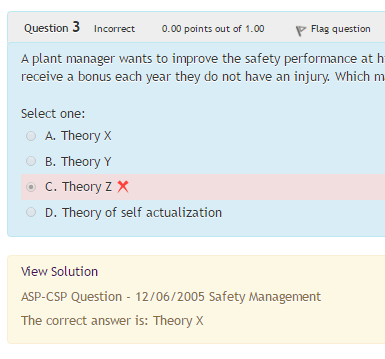 Solutions to all questions in the membership areas are available to clients with Premium Member access.