Forum discussions are a great way to have an online conversation. Here's how they work in the Learning Center.
You have the following options:
Reading
Searching
Subscribing/following (on the forum level or a single discussion)
Replying to a discussion post, and
Starting a new discussion
Each forum can have discussions. Each discussion is made up of messages (an initial post and replies).
Forum Home Page
We have a typical forum home page below with some markings to help identify things:
Search - red arrow (upper left) - searches all forums in a course


Add a new discussion - turquoise arrow (next to search)

View a discussion - blue arrow (Discussion column)

Subscribe / unsubscribe - orange circles:

Subscribe to forum button - whole forum

On/Off slider switch - just that discussion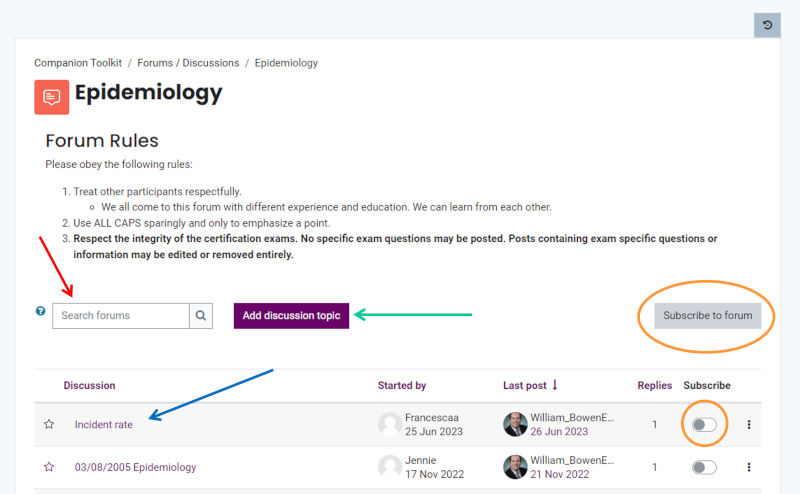 The Subscribe to forum button switches to Unsubscribe from forum after you subscribe to a forum. Use that button to unsubscribe.
Discussion Page
Below is a discussion page.
You can:
Navigate to different discussions (blue double arrow).
Subscribe to and star the discussion (orange circle). You can also undo these in the same settings dropdown menu.
add a reply by clicking the reply at the bottom of the initial post (red arrow). Note that all replies also have a reply link at the bottom of their messages so that you can insert your reply where it makes the most sense.